What exactly is Juneteenth? You've probably seen it listed on your calendar as a holiday, but maybe never really knew what it was. Juneteenth honors the day June 19th, 1865 when in Galveston, Texas, all those enslaved were justly freed. Two months after the end of the Civil War, General Gordon Granger (a Sodus, New York native) delivered the news to the enslaved in Galveston. This holiday has been celebrated by Black Americans since the late 1800s, but since the recent murder of George Floyd and countless other Black Americans, there has been a renewed interest in this holiday.
Today, some celebrate in backyards with friends, family, and lots of food, but some cities hold larger events such as parades and festivals. Juneteenth has also been called "Juneteenth Independence Day," "Freedom Day," and "Emancipation Day." If you'd like to know more about the history of Juneteenth, how it's historically been celebrated, and why it's so important, read this article from The New York Times, or if you want to read more about former Sodus resident General Gordon Granger, read this article from WXXI News.
Visual artists play an important role in memorializing the events of Juneteenth. At the center of where it all happened, Galveston, Texas, a mural has been commissioned this year to mark the spot where the emancipation was announced. It will be titled "Absolute Equality."
According to Reginald C. Adams, a Houston artist who was commissioned to create the art, "the mural sprinkles the hard bitter truth with sugar. The sugar is the beauty and energy of the mural, while the bitter truth is that for two and a half years, people were held in slavery against a federal declaration," (Alina Tugend).
If you'd like to learn more about the mural and what it represents, read this recent article from The New York Times.
In 2020, a writer for Cosmopolitan magazine reached out to six Black artists asking them to make art about what Juneteenth means to them.
One of the artists Kendra Dandy said, "This illustration is meant to be a celebration of Black beauty and joy to give us light in these hard times," (Raydene Salinas Hansen).
Another featured artist, Khadija Horton, said "I wanted to celebrate Juneteenth in fashion the same way we do the Fourth of July. I also wanted to highlight specific fashion iconography that comes from Black culture (e.g., butterfly clips, hoops, nameplates—things that I like to wear that make me feel proud) and then I incorporated illustrated typography into those elements." If you'd like to look at the rest of the artists who made art for this article, visit the full article on Cosmopolitan.com here.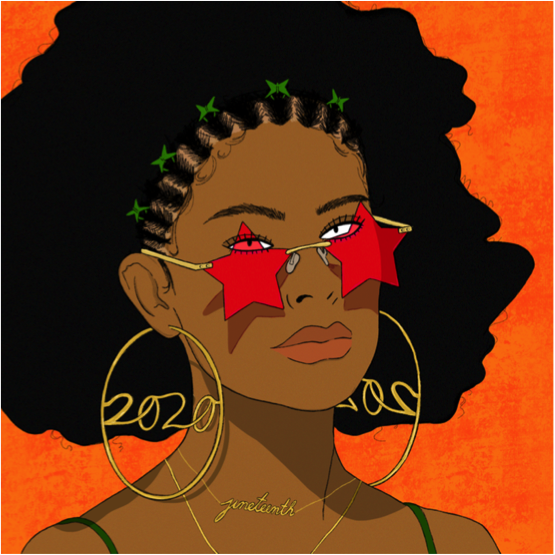 In some communities, Black Lives Matter activists are using Juneteenth as an opportunity to combine art with fundraising for the movement. This year in Pittsburgh, Pennsylvania, some residents are making art to celebrate Juneteenth. "Art as Liberation: Celebrating Black Art in Pittsburgh," will include a group exhibit by 15 local Black artists.
The event was created by internationally exhibited artist Mikael Owunna and will be facilitated by groups including 1Hood Media. 1Hood's CEO Jasiri X, who is also a rapper, said this about the art "I really feel like the key to our liberation, the key to our freedom is expressed through our art."
The event will be a fundraiser for the Antwon Rose II foundation, which was created by Michelle Kenney in honor of her son who was shot and killed by an East Pittsburgh police officer three years ago this month.
If you would like to read more about this event, visit the event page on 90.5 WESA, or if you would like to see Mikael Owunna's portfolio, click here.
This year, in 2021, Rochester, NY is ramping up their Juneteenth celebrations and remembrance events this weekend including a Juneteenth Bike Ride, an Honoring Juneteenth event at Genesee Country Village & Museum with guest interpreters including Cheyney McKnight, founder of "Not Your Momma's History", a Teen Poetry Slam, and more. Visit this article at Democrat & Chronicle to see details of these events and others – many of which include visual arts components. We encourage you to attend as many as you are able!
Notably, Flower City Arts Center Community Outreach Coordinator, Rashaad Parker, will be participating in the Juneteenth Celebration at The Strong Museum of Play in his role as a Commissioner for the Greater Rochester Martin Luther King, Jr. Commission. After a several year hiatus, The Strong Museum of Play has returned to its summer programming, and is once again hosting the community event during open hours where admission to the museum will be free on Saturday, June 19th from 11am-2pm. Details can be found on the event page here or on the flyer image below.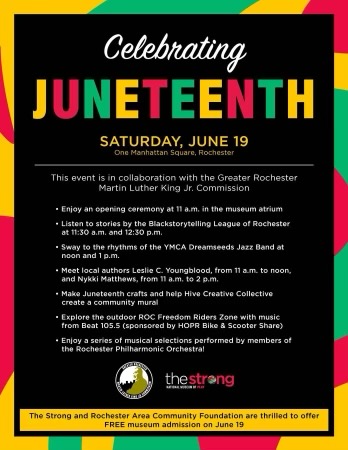 Blog post contributed by Flower City Arts Center intern and RIT student Madi Watson and Flower City Arts Center staff.