Something incredible is happening for me.
As I continue to explore and research feminine expression through a larger cultural context, the idea of femininity is starting to break free of gender.
Femininity does not belong to any of us, but it belongs to all of us. It is there as an opportunity to be expressed, enjoyed and embodied.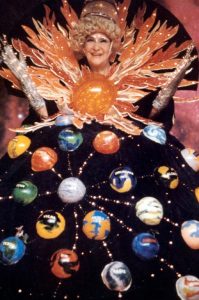 I was listening to a panel discussion held by my teacher and friend, Guru Jagat with Shaman Durek and actress Kelly Rutherford. At one point Shaman Durek calls for "The Liberation of the Feminine," and that struck a truth cord for me.
You can watch the discussion titled, "Alchemy of the Empowered Woman," here.
The cross-cultural and expansive reclamation of powerful feminine expression is driving our cultural shift right now. There is no doubt in me about that.
For me, it will continue to be a playful and critical analysis and expression of my own feminine alter egos and how my identity as a cis-gender woman has been informed by positive, toxic and co-opted expressions of feminine virtue.